What is the Helmholtz Cloud?
Our purpose is to support scientific work from all domains and research centers. To this aim, since summer 2019, we are setting up the Helmholtz Cloud, providing a portfolio of seamlessly accessible IT services. The upcoming Helmholtz Cloud will initially consist of 38 services offered by nine Helmholtz Centers. Considering that some services are provided by several centers, the initial service portfolio includes 21 different services.
More infos on the Initial Service Portfolio
How can I access it? And when?
It is the purpose of HIFIS to allow a common, harmonized access to Helmholtz Cloud services via a single portal – the Cloud Access Layer – and Single-Sign-On (SSO). The initial set of services as well as the first version of the access layer is scheduled to be available by the end of 2020.
What are the plans for the Cloud Access Layer?
The initial version of the Cloud Access Layer is planned to be kept simple while at the same time incorporating one of the most important features, the single-sign on (SSO) functionality. Further functionality of the first version includes
List of services
Detailed view for services
Possibility to access a service via a link
Indication of service status
This design preview gives you an idea how the web application will look like: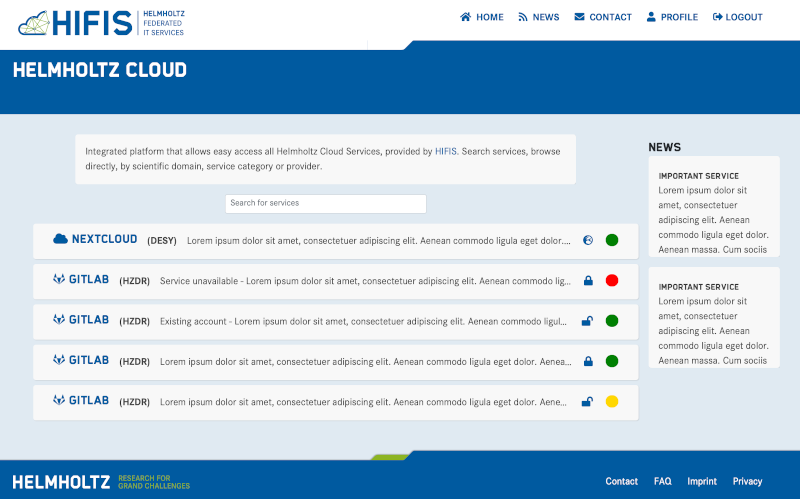 Later versions will contain more enhanced features like
Personal workspace with overview about the personal set of services
Possibility to request more specific setup of services
Creation of meta services, e.g. combination of JupyterLab with HPC resources and a storage service
If you have suggestions about additional use cases and functionality, please feel free to contact us. We appreciate all input from the user community!
Contact us: